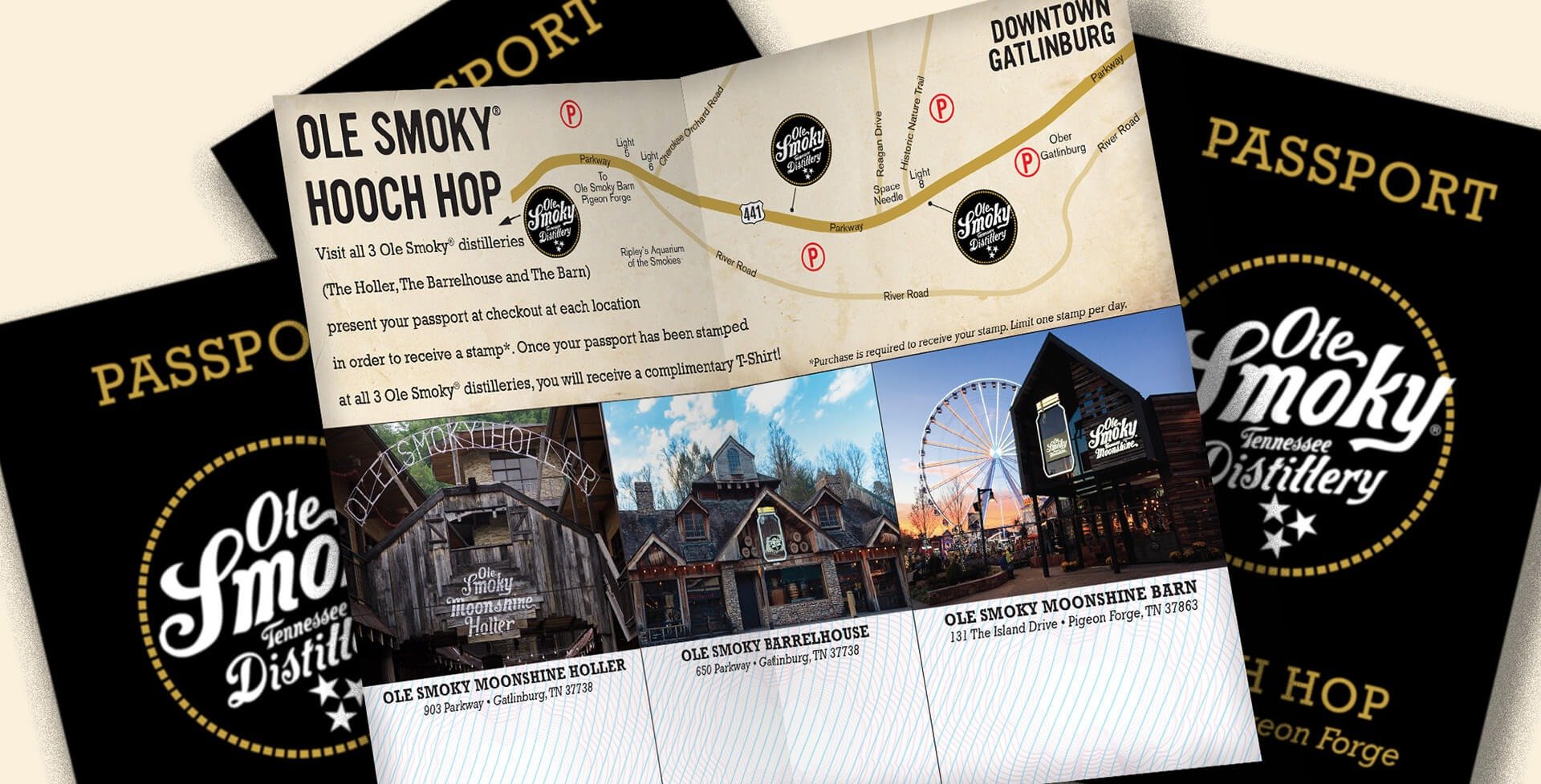 Bar Hopping With the 'Ole Smoky Hooch Hop'
Are you looking for some fun things to do in Sevier County? Look no further than the Hooch Hop! Our version of bar hopping, the Hooch Hop takes you to three Ole Smoky distilleries in Gatlinburg and Pigeon Forge. Visit The Holler, The Barrelhouse, and The Barn and collect stamps on your passport at each location. Once you receive a stamp from all three places, you'll even get a free T-shirt! Whether you're a fan of moonshine and whiskey or just looking for a unique drinking experience, the Hooch Hop is a great way to explore the local businesses and sample some delicious beverages in the process. So grab your friends and embark on the Hooch Hop for some tasty drinks and a memorable afternoon. Cheers and Shine Responsibly!
STEP 1:
Start by visiting any of the three distillery locations in Gatlinburg or Pigeon Forge. To receive a Hooch Hop Passport, you'll need to make a purchase at the first distillery (no minimum). Request for a passport at the checkout counter, and you'll get it stamped. 
STEP 2:
Head over to the next distillery location to get your second stamp. A minimum purchase is required to get stamped. 
STEP 3:
Make one final stop at the third distillery location. Make a minimum purchase to receive your last passport stamp at checkout. You'll earn a complimentary t-shirt for your efforts. 
* Hooch Hop promo tees are available while supplies last. Customers will receive an alternative item when t-shirts are sold out. 
PARTICIPATING LOCATIONS:
The Hooch Hop is only available at our three locations in Gatlinburg and Pigeon Forge. Feel free to visit them in no particular order. Make a purchase at each location. 
The Holler
903 Parkway Suite 128, Gatlinburg, TN 37738

The Barrelhouse
650 Parkway, Gatlinburg, TN 37738

The Barn
131 The Island Drive, Pigeon Forge, TN 37863

QUESTIONS:
Please contact Customer Service at 865-436-6995 for further details about the Hooch Hop.
Back to the main page
Back to the main page