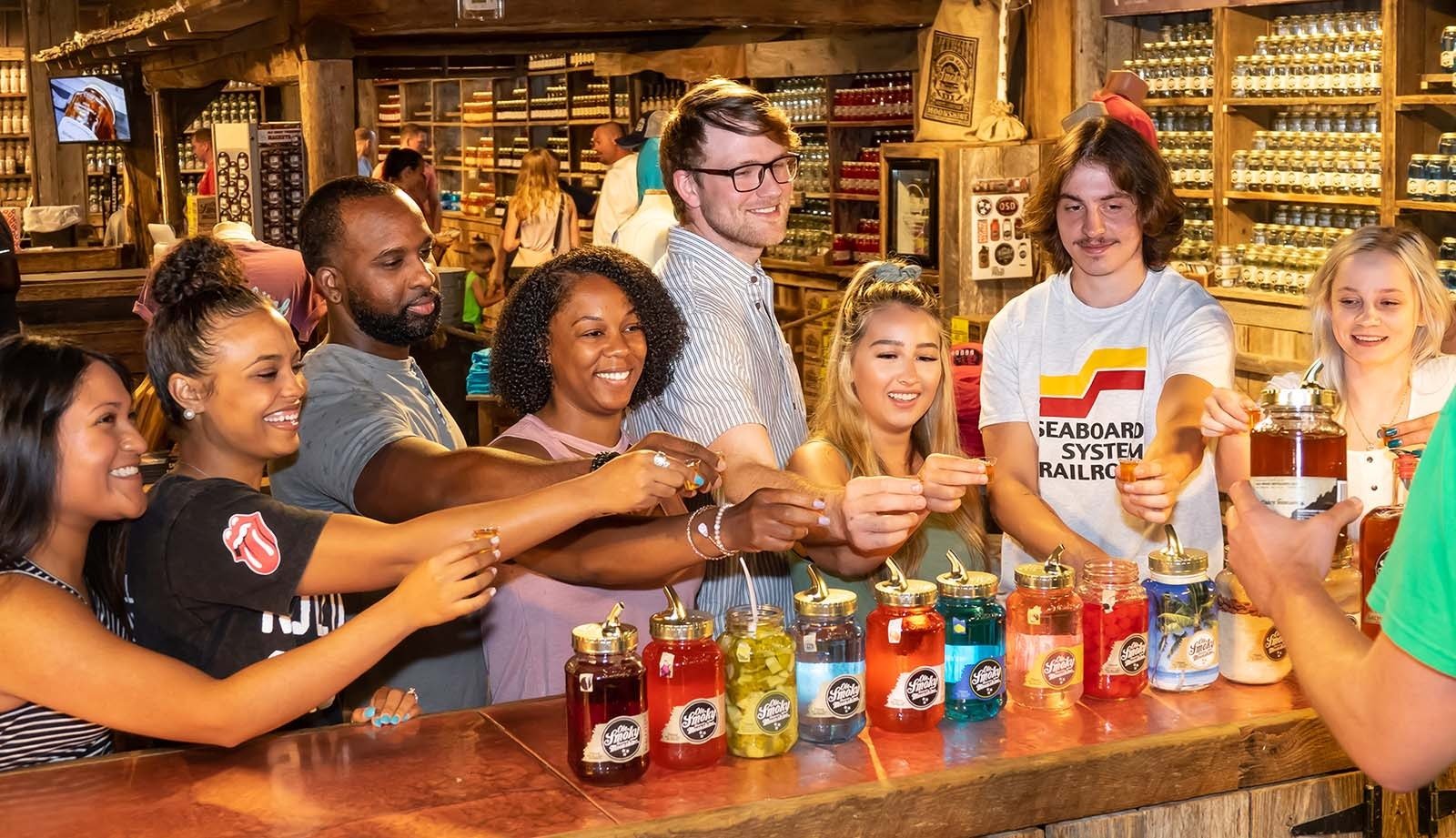 Ole Smoky Again Named the Most Visited Distillery in the World In 2022
GATLINBURG, Tenn.--(BUSINESS WIRE)--Ole Smoky Distilleries, crafting moonshine, whiskey, and featuring daily tastings for visitors, were once again the most visited distilleries in the world in 2022. According to on-premise traffic counters, the four Ole Smoky Tennessee distillery destinations welcomed more than 5.3 million visitors last year, topping all their largest competitors.
Ole Smoky's The Holler in Gatlinburg welcomed 2.3 million visitors, The Barrelhouse in Gatlinburg welcomed 1.1 million visitors, Pigeon Forge's distillery, The Barn, welcomed 1.2 million visitors, and Nashville's 6th & Peabody welcomed over 700,000 visitors in 2022.
By comparison, Ole Smoky entertains more than twice as many guests as all of Scotland's 140 distilleries combined, according to the latest information released by the Scotch Whisky Association (SWA), and over double the number of guests who visited all 42 distilleries on the Kentucky Bourbon Trail last year.
"It's an honor for Ole Smoky to be recognized again as the most visited distillery in the world," said Robert Hall, CEO, Ole Smoky Distillery. "We're proud that each year more and more people visit our distilleries to try our innovative and growing variety of great tasting moonshine and whiskey products, enjoy live music and attend distillery events. As East Tennessee continues to be a top destination for vacationers and locals alike, we're excited to support the community and look forward to welcoming many new visitors in 2023."
Ole Smoky is the leading craft distiller in the U.S. and the No. 1 selling moonshine brand in the world. Each year, Ole Smoky continues to stay at the forefront of the spirits industry by introducing innovative terrific tasting new products. In 2022, the distilleries showcased unique flavors like Orange Shinesicle, Key Lime Cream and Blueberry Lavender – to name a few. In addition to product innovation, Ole Smoky attributes their success to the lively atmosphere, the employees who serve up great hospitality and exciting events put on at the distilleries. Last year, Ole Smoky hosted its first annual Shine Fest, at their Nashville distillery location, bringing together travelers and locals alike to celebrate National Moonshine Day
Each Ole Smoky distillery location includes working stills and fermentation tanks and an expansive visitor experience, including self-guided tours, moonshine and whiskey tastings, live music, and large retail shops featuring Ole Smoky moonshine, whiskey, apparel, accessories, giftware and food products. And, for consumers that aren't able to make it to one of the company's distillery locations, Ole Smoky Moonshine and Whiskey can be found in all 50 states and over 20 countries around the world where liquor is sold.
About Ole Smoky® Distillery LLC
Ole Smoky is the leading distiller of premium moonshine in the world, the leading craft distiller in the U.S. and the first federally licensed distillery in the history of East Tennessee. Founded in 2010, Ole Smoky's roots are traced to the Smoky Mountains' earliest settlers, families who produced moonshine with enduring pride and Appalachian spirit. Ole Smoky has been recognized on the Inc. 5000 List of the fastest growing private companies in America for three consecutive years – 2020, 2021, and 2022, as well as receiving the 2021 Shanken Communications' Hot Brand and Blue Chip Brand Award and 2022 Growth Brand Awards for Moonshine, Canned Cocktails, and Peanut Butter Whiskey. Today, Ole Smoky's 25 creative moonshine flavors and 17 inventive whiskey flavors can be found in all 50 states and at the company's four famed distilleries in Tennessee: The Holler and The Barrelhouse in Gatlinburg, The Barn in Pigeon Forge, and 6th & Peabody in Nashville. For more information, please visit olesmoky.com and follow Ole Smoky on social media @olesmoky.
Sydney Holsclaw/Mary Reynolds
Sydney.Holsclaw@phase3mc.com
Mary.Reynolds@phase3mc.com
Back to the main page
Back to the main page